Hello everyone,
here are some informations about the new Colony Defense Simulation. You could start the simulation (Security Officer, next to the spawnpoint) with a T1 fleet or higher. You need 3 provisions to start the simulation. This simulation is a great way to earn provisions for each tier to upgrade the Colony Holding.
Teams (and yes, team up per generator to get teamwide buffs like rally cry, tactical proficiency and so on):
1x Eng per Team (REQUIRED if you want it easy going, check the build at the end of the post)
1-3x Tac per Team
1-3x Sci per Team
The simulation:
*attention* There is only a maximum of 20 people allowed to be on the map. Otherwise the simulation will stop with the next break point. *attention*
You have to defend 4 Shield Generators on the map. The positions are as followed: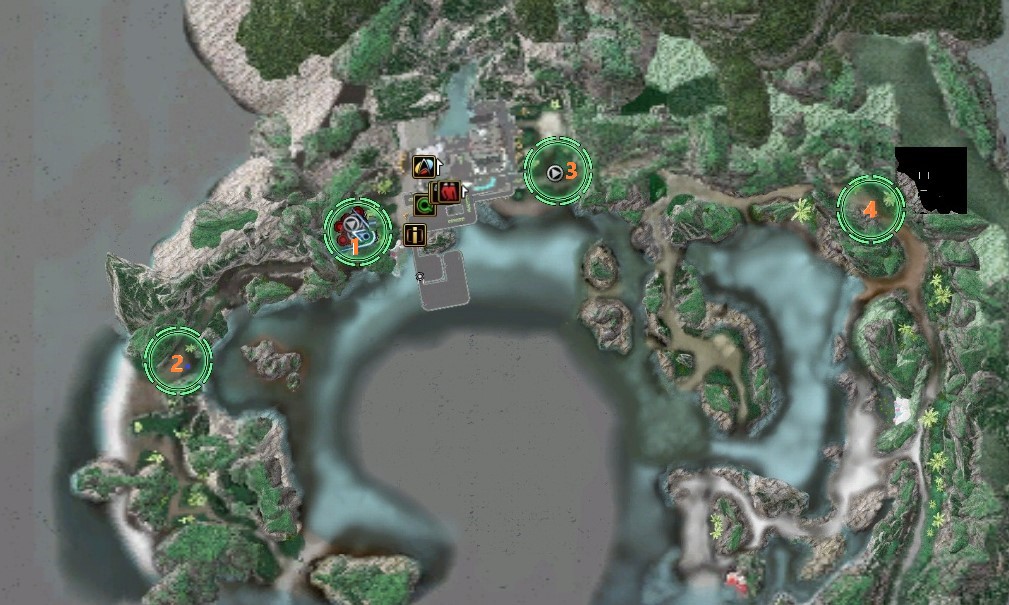 There are a maximum of 30 Waves in this simulation. Defend the Generators. The engineer of the team should place a Medical Generator (from R&D) and the Photonic Barrier Generator (Iconian Reputation) next to the Shield Generator and keep them running all the time. A covershield could protect one side of the generator too. Every few waves there will spawn an enemy mortar a bit outside of the normal spawning area from enemies (*attention* for generator 2, one mortar could spawn inside the mountain. use a mortar to kill him). One person should engage that Mortar directly. In addiditon, kill the most dangerous enemies first, the ones with heavy aoe attacks. For Voth as example, kill the Furiadons first, continue with Exosuits. Crowd control/knock downs are helpful for this too.
As a special stage you have the Orbital Bombardement every 10 rounds. 1-2 persons from Generator 1 or 3 have to go to the roof/3rd stage of the colony and kill the strike team there.
Every 5 rounds there is the possibility to end the simulation.
Reward:
Its possible to get 2100 of EACH provision per person for beating wave 30.
Useful Kit Modules:
Eng:
Medical Generator (from R&D, highly required once per generator, REQUIRED!! | aoe heal)
Photonic Barrier Generator (from Iconian Reputation, REQUIRED!! | aoe temp hp buff)
Neutronic Mortar (from Delta Reputation| aoe dmg)
Plasma Flamethrower turret (from Embassy | singletarget & aoe dmg)
Echo Papa Drone (Exchange/Lockbox | singletarget & aoe dmg)
Seeker Drone (R&D | single target dmg)
Explosive Drone (Exchange/Lockbox | single target & aoe dmg)
Chroniton Mines (R&D | aoe dmg)
Sabotage (Exchange/Loxkbox | weapon disable & dmg vs non living targets like mortars)
Tac:
Motivation (Exchange/Lockbox | team dmg buff & heal)
Rally Cry (R&D | team dmg buff & heal)
Ambush (R&D | damage buff)
Graviton Spike (Summer event |aoe dmg & crowd control)
Echo Papa Drone (Exchange/Lockbox | singletarget & aoe dmg)
Paradox Bomb (Temporal Specialization Store | crowd control & aoe dmg)
Gravitational Juncture (Exchange/Lockbox | crowd control)
Trajectory Bending (Exchange/Lockbox | dmg buff)
Motion Accelerator (R&D, to get faster to the Spawn at the Top every 10 waves | runspeed buff)
Overwatch (R&D | aoe resistance buff and debuff proc)
Sci:
Paradox Bomb (Temporal Specialization Store | crowd control & aoe dmg)
Gravitational Juncture (Exchange/Lockbox | crowd control)
Cold Fusion Flash (Exchange/Lockbox | aoe dmg)
Exothermic or Endothermic Induction Field (R&D or Summer Event | aoe dmg)
Seimsmic Agitation Field (Summer Event | aoe dmg and crowd control)
Chronomatic Diffusion Field (Temporal Reputation | aoe dmg)
Useful devices:
Large Kit Overbooster (R&D | Kit performance buff)
Large Hypo
Nukara Reinforcements – Elite Reprogrammed Drones (Nukara Reputation, useable out of inventory | additional pets, damage, crowd control)
Gambling Device (Lobi | crth&crtd buff, 1h duration)
Powerboard (Summer event, in case you need to switch position fast)
Frequency Remodulator (Replicator | against borg)
Shard of Possibilities (featured epsiode replay, crowd control)
Example Builds: