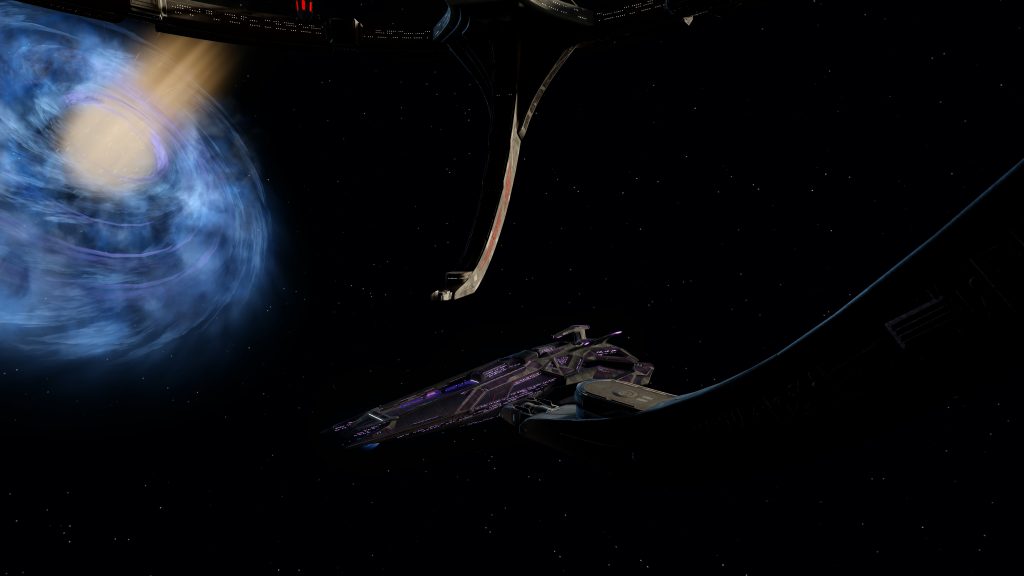 (Screenshot by @pottsey)
Hanger pets are often overlooked being seen as a bonus launch and forget secondary or even tertiary damage source. On some ships and with the right combinations hanger pets can add a reasonable amount to your overall DPS. Pushed far enough it is possible to get over 100k DPS from pets alone, although that could be argued to be suboptimal as you will be sacrificing other better areas which overall would give you more DPS.
To get the most out of pets one of the first choices is the skill tree. There isn't much to talk about here you will want
Coordination Protocols: +20% Hull Capacity and Shield Capacity for Hangar pets.
Defensive Coordination: +20% Defence and Damage Resistance Rating for Hangar pets.
Offensive Coordination: +20% Accuracy and Base Damage for Hangar pets.
5 points in Engineering track: Hangar Health: Hangar pets have an additional 10% Maximum Hull Capacity
5 points in Tactical track: Hangar Weaponry: Hangar pets deal an additional 10% Damage from all sources.
The next source of damage I like to look at comes from Doffs and there are two main ways to do this. The cheapest way is to get x3 Flight Deck Officers with increase 10% hanger pet damage per doff when in Escort Mode. While suboptimal this is cheap and a good starting point if you are new to Carrier builds. Its a good way to get a feel for the build before investing in more expensive options.  It's also worth noting this is more for a themed hanger build as damage gained will be less then what you could get from doffs that help your main weapons.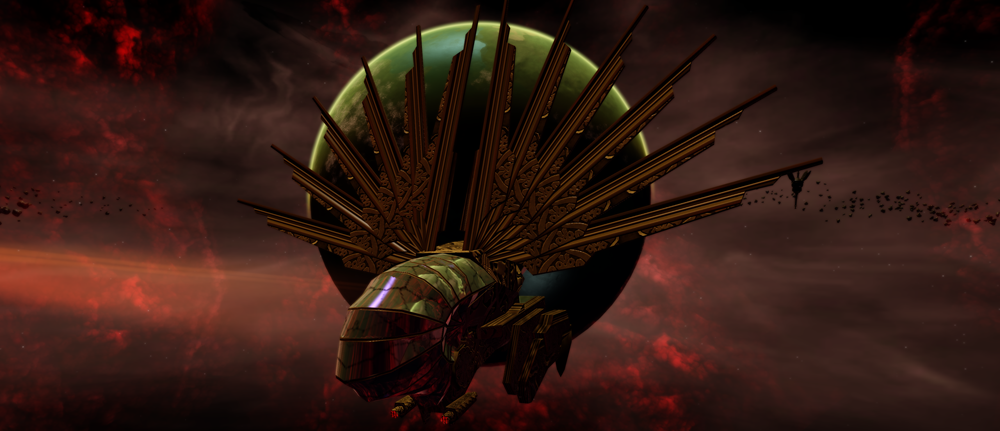 My preferred way although it costs a lot more, is to get the Scrambled Fighter Starship Trait with x3 Flight Deck Officers that lower Hanger Bays recharge by 4 seconds each. Combine this on a Carrier with Quick Deployment Starship Mastery for an extra 20% and high Aux power if you can spare it to knock more time off. Now set the Hanger Bays to Auto launch. Depending on the pet used this can lower the bay recharge down to as little as 1 second (Lost Souls of Gre'thor) Most fighters can be lowered down to 10 seconds.
This method has a number of advantages; you are not limited to Escort Mode, the hanger pets are self-healing by 50% hull every few seconds, there is a 5 second damage immune for pets with a 15 second lockout.
Running at approx 110 Aux with Lost Souls of Gre'thor the fastest launch speeds pets, will gain a 125% damage bonus. 95% better then the Escort Doff method. With the slower launch fighters like Jem'Hadar fighters or Scorpion's you still get 2 stacks (*) for a 50% damage bonus.
The above method with Frigate pets makes them surprising tough tanks. They tend to survive most fights and due to surviving reach and stay at rank 5 further boosting damage.
 (*) I have not worked out the minimum aux you can get away with and the minimum depends on the hanger pet base recharge. I did try 155 Aux which wasn't enough to get the recharge fast enough for 3 stacks with Fighters.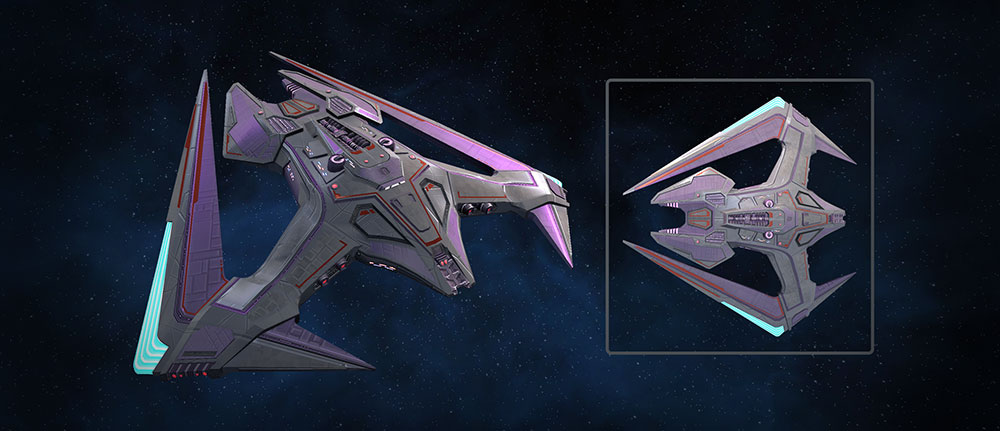 Trait Choices
The next damage boost is partly down to your pet choice and partly down to personal preference and ship build. Personally I like Option 1 best due to me not not focusing on energy weapons. If you use energy weapons Option 2 could be better.
StarshipTrait set option 1: Scrabbled Fighters + Dominion Coordination + Coordinated Assault
Due to Coordinated Assault every time we Beam Overload or Rapid Fire the hanger pets gain Rapid Fire 1 and Beam Overload 1, followed by Dominion Coordination giving hanger pets within 10km a further 33% damage boost. You don't need an energy weapon fitted. An Ensign Beam Overload on a Torpedo or Minelayer boat works fine.
In the case of Lost Souls they cannot make use of Rapid or Overlord so skip Coordinated Assault. Dominion Coordination though stacks with Scrambled Fighters for a total of 155% damage boost to Lost Souls.
For a long time I ran this trait set on a Jem'Hadar Dreadnought Carrier with Attack Ships which gain both Rapid fire and Beam Overload.
Starship Trait set option 2: Scrabbled Fighters + Superior Area Denial
Option 2 works well with energy builds as Superior Area Denial trait supports your main weapons better. This grants Fire At Will 1 and Scatter Volley 1 to hanger pets when you activate Fire at Will or Scatter Volley along with giving your main ships energy weapons a none stacking with itself -30% damage resistance. As before you don't need an energy weapon fitted to trigger this trait.
StarshipTrait set option 3: Scrabbled Fighters + Fiery Entrance +  your preferred Traits from option 1 or 2.
This works best on Exotic builds as the Fire nova damage is boosted by Exotic. It works even better with Lost Souls and max hanger recharge builds. Every time you use Narrow Sensor Bands or Launch a Hanger pet your ship fires a short range ring of fire around your ship. With max hanger bay recharge the Lost Souls will cause a ring of fire around about twice every second. That's approx 20 attacks over 10 seconds with hits multiplied by the amount of ship in range. If you stack into into Exotic and fly point blank range into a Gravity Well the Fire Nova damage can multiply up fast in big groups. It's a bit of a specialty build but if you fancy something different it works.
Optional Traits:
Starship trait: Voth Carrier Synergies. When running fast hanger recharge with Scrambled Fighters this is unlikely to be needed but if you really want hard to kill pets add it in. Engineering ability's grant you 10% hull healing to yourselves for 15 second. All pets gain an Immunity Shield for 15 seconds.
Lastly Tactical Boff ability give 10% all damage to yourself for 15seconds and Enable Aceton mode on all pets for 15seconds.
Starship trait: Hivebearer: When launching a hangar pet or when hangar pet dies: Spawns a Hur'q Swarmer for 30 seconds (max 8 Swarmers at a time). Worth considering although I have not had the best performance out of them and if your hanger bay recharge it too fast they will bug out. With Lost Souls on a max Hanger Bay recharge build the Swarmer's will do zero damage due to respawning to fast. If your recharge is over 5 seconds these should work.
Starship Trait: Target That Explosion Not had chance to test this one out. Up to 5 nearby allies launch a torpedo at the target when you use any Torpedo or Command bridge officer ability.
Personal Trait: Wing Commander makes the pets level up faster taking half the normal time to reach rank 5.  Without this boost pets need to be in combat for 5 minutes to hit rank 5. The rank bonus depends on the type of pet.
Personal Trait: Holographic Mirage Decoys Not really essential as pets are already tough enough with Scrambled Fighters. But if do not yet have that trait or like me you use mines this has a nice bonus of helping keep hanger pets alive a little.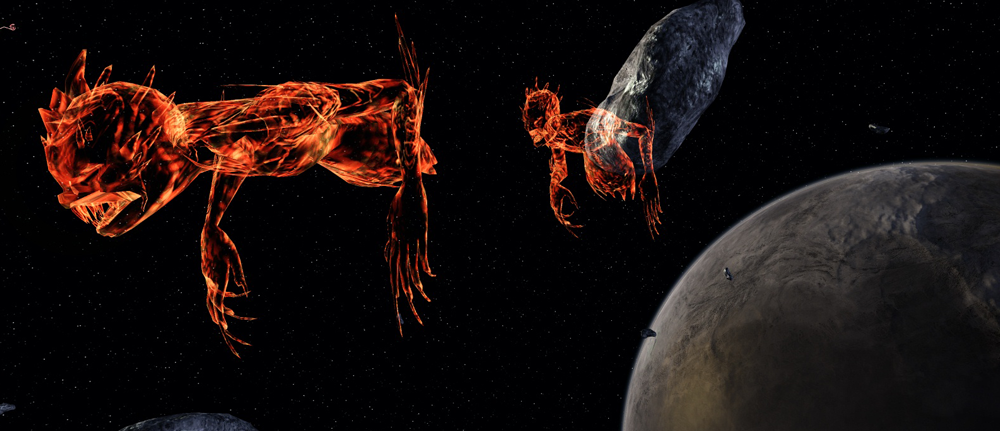 Consoles:
For a more complete list of hanger pets, traits and Bridge Officer abilities that benefit pets see https://sto.gamepedia.com/Hangar_pet
There are a number of universal consoles that summon pets. Personally I wouldn't use most of these unless building towards a full carrier theme over performance.
Notes: None of the damage numbers above factor in damage boosts for hanger pets ranking up in combat. A fully ranked up Lost Soul with max stacks of Scrambled Fighters and Coordinated Assault would hit 165% damage boost. You could add Dampen Energy Signatures starship trait for a further 5% if your really want to maximise pet damage over max DPS.