A short guide for the multi mission explorer vessels and other science ships being able to use drain builds.
*Warning* Shield-drain builds are heavily team based builds since there hull damaging capabilities are limited. 
Guide and build author:
@p4ing0d
shoutout to:
Aponte and Tankia
Skil Planer
Surhuelh Reconnaissance Explorer Warbird [T6] / Drain Build
Ship role and purpose
Goal of this build is to get as much dps as possible with pure Drain X abilities and consoles. Furthermore to draw aggro and tank for team mates, giving you and your team a greater survivability.
Guide Breakdown
this guide is written as an academic paper, starting with a review and walkthough of gear, traits , doffs etc. Followed by what methods I employ and how I perform my ISA parse run to get most out of this build. After this section i go though some numbers and end with discussion and conclusion. The first post will be about chapter one, the Equipment and traits review.
Content
Numbers
Discussion
Conclusion
Chapter One
Equipment review
this chapter holds all my thoughts behind what gear I use and why I use it. I start this chapter with a breakdown of this build most important equipment, and how I build around this set pieces. Starts with ship gear and is followed by BOFF/DOFF, Traits and Stations.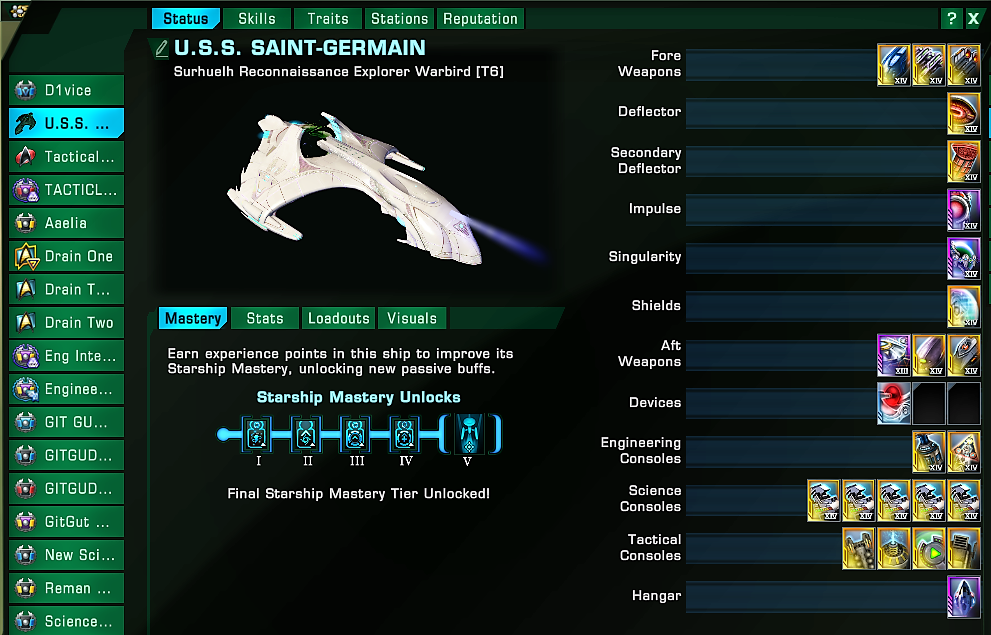 Skil Planer:
http://skillplanner.stoacademy.com/cf0e0fc9289089daff8e5357aa2a88bb
The center piece on this build is the Omni-Directional console from the Multimission explorer, It's what makes this ship dps go crazy. You need the 4 set bonus (including the Lukari ships console) to get most out of this console. This console dps is increased by the amount of DrainX you have and the level of your AUX subsystem. That is why I have so many different set pieces on this ship that all buff drain X, here is a list of the major equipment.
Terran Deflector and Engines (set bonus gives drain)

Nukara Mines and Console (Set bonus gives drain)

Temporal Shield (gives drain)

Delta Warp Core (gives drain)

Console : Quantum Phase Converter gives tons of drain

Quantum Phase Torpedo

Console :  5x Research lab Drain X x2 consoles

Lukari Weapon 2 set gives drain

Lobi store 2 set from Saboteur's Gambits
In the methodology section I will breakdown how to use the console and how to make it as effective as possible.
The Quantum phase torpedo brings secondary dps , when you use this Torpedo with spread you will get some crazy numbers out of it. Highest damage numbers I have seen was from Tankia in HSE , where I think his dmg spike was in the millions. The torpedos drain scales of DrainX just as everything in this build.
Deteriorating Secondary deflector is a must on this ship due to it triggering of most of the bridge officers abilities being used.
Lukari Cannon the set bonus from the Lukari set is a nice bonus, however when using Cannon rapid fire you get bonus dmg out of this cannon. Technical overload is the proc from the cannon , an AoE effect dmg based on your aux level.
Honorable mentions (the pets) , this ship can hold one pet, and I am using delta flyers, they fit the theme on the ship however, you can use any Elite Pet variant.
Skill tree
you can run whatever skill tree setup you like, only really important points,  place points into Drain Expertise and infection. An example is available in the build.

BOFFS
This ship employs 3 science bridge officers you can get from the K13. This bridge officers have the k-13 Survivor science trait that gives +10 drain and +10 control. It's highly a advertised to use all 3 available slots for these boffs.

DOFFS
Duty officers layout is less specific, on my build I use the Emergency con hologram, 2 damage control engineers and 3 deflector dudes. Emergency con hologram combined with EPTE is a godlike doff, and one of the most use full doffs out there. The dual damage control engineer setup is for the cooldown reduction for my emergency powers, I run the Emergency power to shields and engines power. The last three DOFFS are the deflector officer for some cooldown reduction for my science abilities.however no matter what there is no set best DOFF setup for this build I would say it runs fine with any combination of DOFFS you can find out there.
Boff powers and Traits
My Bridge layout and Traits are set up that way they have a great synergy with each other.
Tactical BOFF powers needed for my build is Cannon Rapid Fire and Torpedo spread III(if possible). Rapid Fire is needed to proc the Technical overload trait on the Lukari cannon. Torpedo Spread is needed for the 100% chance to get the drainX proc. This proc deals massive dps from the shield DRAINS.
Science BOFF powers needed is, Tachyon Beam, Photonic Officer, charged particle burst. Photonic Officer is basically chosen for the cooldown reduction, because this build needs a constant high Aux power there for you can not use Aux To Bat.
Tachyon Beam and Particle burst both deals damage based on your Drain Skill, at the same time they both all so buff your passive drain and ctrX up from the trait:Cyclical Power Capacitors. (Strategy is while waiting for pets you can cycle your drainX abilities to get the bonus Drain). Starship trait such as Improved tachyon beam is a must as well, on an avrg. ISA run it will shield heal you and your team for about 1.000k to 2000k heals.
Engineering BOFF that I use is, Emergency powers to engine and shield. EP: Engine is used in conjunction with the Emergency conn hologram and Damage control engineers. The EP: Shields is used with the synergy you get from shield overload, this trait makes this ship to a super tank and super healer.  
Temporal Specialization abilities you can use is, Shared Fate & Gravimetric Conversion , both this abilities does a medium amount of drain DPS and stack your Drain Traits up.
Tac Boff: Rapid Fire and Torpedo Spread

Sci Boff: Tachyon Beam , Charged Particle Burst and Photonic officer

Eng Boff: Emergency power to Engines and Shields
In this section I will highlight and describe key important traits that I use that stands out from parses. all this traits below here is key for the Drain DPS.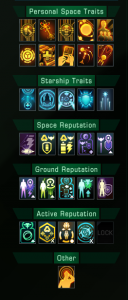 Personal Space Traits:
Cyclical Power Capacitors (Super drain ability) has synergy with all the SCi and Temporal drain abilities

Inspirational Leader (bonus drain)

Subnucleonic Transferal (if Sci captain)

particle manipulator (for some bonus dps for ur EPG abilities)

Superior Astrophysicist (for the bonus drain)
as a Reminder from last section Tachyon Beam and Particle burst both deals damage based on your Drain Skill, at the same time they both all so buff your passive drain and ctrX up from the trait: Cyclical Power Capacitors. (Strategy is while waiting for pets you can cycle your drainX abilities to get the bonus Drain). Starship trait such as Improved tachyon beam is a must as well, on an average.
Starship traits
Improved Tachyon beam

Shield Overload

All hands on Deck
This three starship traits are really great on a drain tanking boat. The tanking part is important due to the nature of point blank abilities, and how you can play the role as the team healer and team tank. Therefore you need the first two traits for that role to click. AHOD is a great CD trait for all ur sci powers and cpt. abilities.
Reputation traits and Captain abilities
Quantum singularity Manipulation

Piezo-Electric Weapon Amplification

Science Fleet
I will mention three key traits and abilities  here , the Active Reputation trait called Quantum singularity Manipulation and Piezo-Electric Weapon Amplification and the Science captain power called Science fleet. Quantum singularity Manipulation is earned from the romulan reputation at rank 5, it gives you 100 points into all your sci powers when you activate it for a short duration, combined with your Point blank Drains you will get some massive dps from it. Piezo-Electric Weapon Amplification  does a truck ton of dps  if it procs. In my latest run I had it proc one time in a 2min run, and it still did about 2k dps, the ability scales really well with drain . Science Fleet is mentioned because it gives you bonus drain , that will increase your dps as a drain captain.
To be continued….