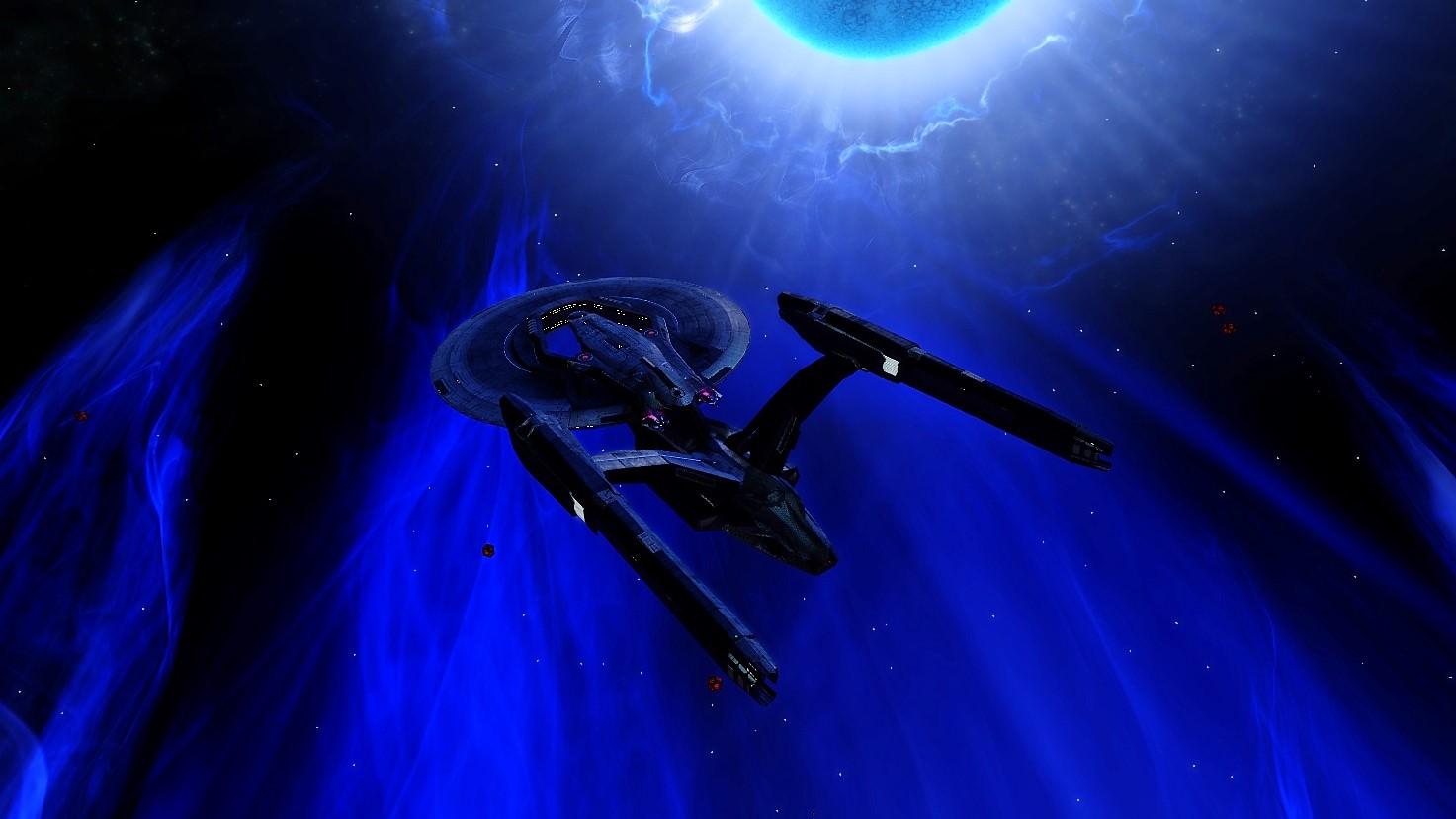 (Screenshot by tenore#0775)
Hi,
today we have the build from one of our players, @tenore#0775. He set some impresse records with his ship lately. And here is his build and a post he created for you:
Hello everyone,
S13 and S14 brought about many changes with the space rebalance and also with some of the new traits and starship equipment available to us through the Fleet Colony holding.  I have spent much of these past two season grinding and testing, in ISA, HSE and in solo Elite patrols such as Japori, Carraya and Gamma Eridon.  I made a conscious shift away from mixed energy and exotic damage builds to focus exclusively on one or the other as the rebalance, in my opinion, really rewards specialization and focus on one specific damage source.  Of all the cooldown reduction methods, I have found Auxiliary to Battery to be the most reliable and consistent.  While it does have drawbacks in the form of the loss of auxiliary power which weakens damage and heals which rely on this power level, namely exotic damage, it does offer benefits at the same time, boosting power to weapons, shields and engines.  The weapons power boost in particular is quite nice as it adds to the weapons power overcap and on this build allows me to drop Supremacy, a staple DPS trait.  Far from decreasing my damage and DPS, I have noticed an increase in both sustained and peak DPS.  I have yet to do record runs with this build in ISA but my average pug parses are considerably higher ranging in the 170-210k range on my Fed Tac.
If the idea of dropping Supremacy does not appeal to you, feel free to drop Cold Hearted and run Supremacy instead.  I would run the Prevailing Innervated shield for it's extra weapons CritH via the 2 pc bonus and it's proc chance for the additional CritH and CritD which seems to proc quite reliably.
The Colony deflector is a fantastic DPS addition; it rewards global CritH and CritD based on one's HP level.  I find it to be superior choice for DPS as it has outperformed the Nukara 2 pc, Quantum set and the Prevailing Innervated 3 pc which I was running previous to its release.  The Maco shield is taken to boost power levels by 5 per subsystem and is a nice resiliency boost from the Prevailing Innervated shield I ran previously, which had a much lower shield capacity.
A word on my skill tree; I've invested in 1 point of engineering readiness and 2 points of tactical readiness; this allows me with the use of a Krenim Engineering Officer to run half batt or only 1 copy of Aux2Bat should I wish to fly an escort or destroyer that has very little engineering seating.  With only 1 copy of Aux2Batt, I would lose the VR EWO CritH and take a 3rd VR Technician and also remove the Automated Protomatter Conduits trait and take Chronocapacitor Array instead.  I would also probably run Supremacy instead of Cold Hearted in that case.  While running full Aux2Bat, the combination of the Prevailing Innervated tactical cooldown proc, the 2 points of tactical readiness and the point in engineering readiness allow me to use only 2 VR Technicians  to hit global cooldowns and also free up another duty officer slot.
This build can carry over to the Shamshir quite nicely; I've included a link to that build as well.