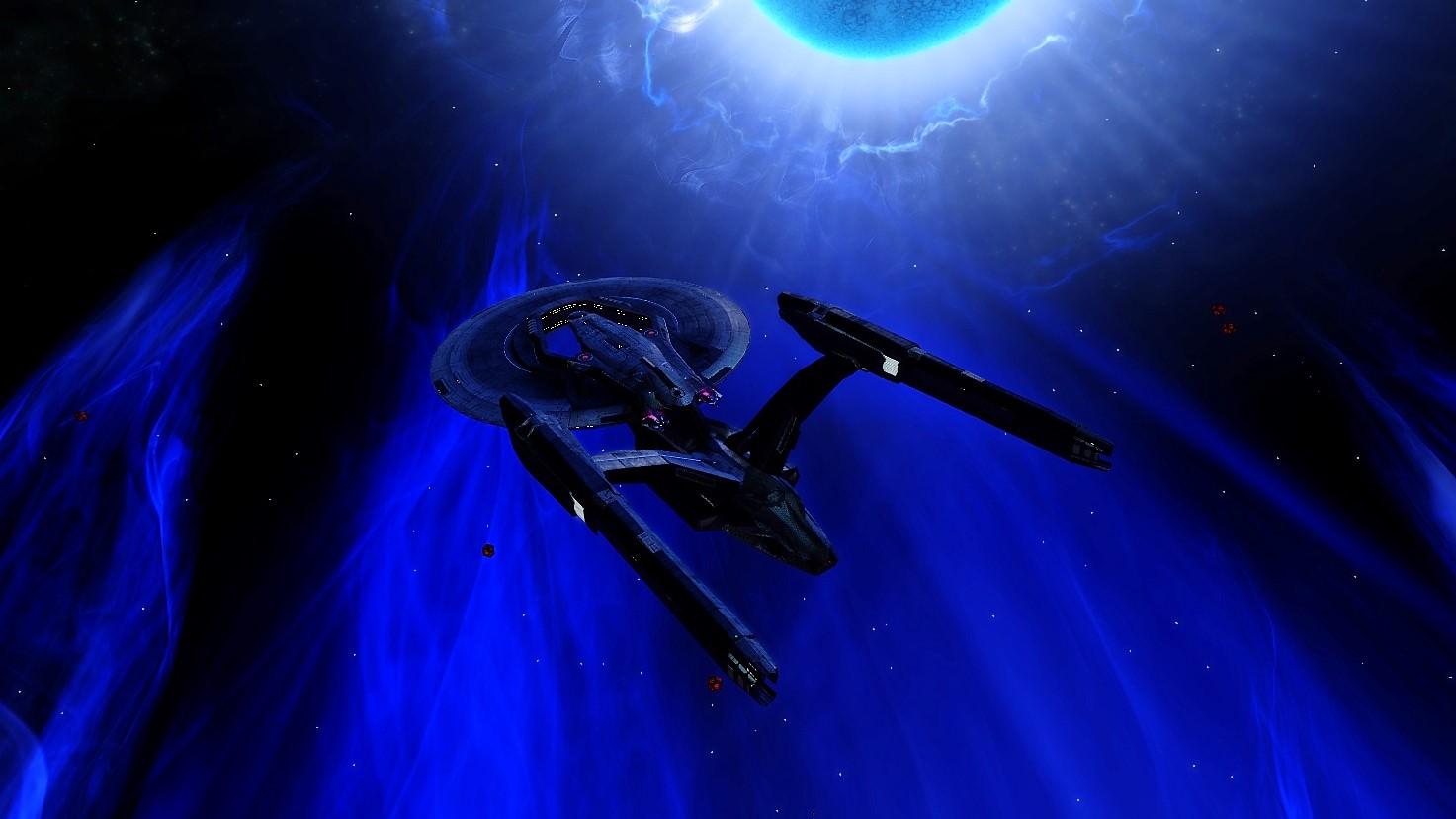 (Screenshot by tenore#0775)
Hi,
today we have the build from one of our players, @tenore#0775. He set some impressive records with his ship lately. And here is his build and a post he created for you:
Hello everyone,
Please note: Build and Article have been updated as of June 3rd, 2018*
S13 and S14 brought about many changes with the space rebalance and also with some of the new traits and starship equipment available to us through the Fleet Colony holding.  I have spent much of these past two season grinding and testing, in ISA, HSE and in solo Elite patrols such as Japori, Carraya and Gamma Eridon.  I made a conscious shift away from mixed energy and exotic damage builds to focus exclusively on one or the other as the rebalance, in my opinion, really rewards specialization and focus on one specific damage source.  Of all the cooldown reduction methods, I have found Auxiliary to Battery to be the most reliable and consistent.  While it does have drawbacks in the form of the loss of auxiliary power which weakens damage and heals which rely on this power level, namely exotic damage, it does offer benefits at the same time, boosting power to weapons, shields and engines.  The weapons power boost in particular is quite nice as it adds to the weapons power overcap and on this build allows me to drop Supremacy, a staple DPS trait.  Far from decreasing my damage and DPS, I have noticed an increase in both sustained and peak DPS.  Pug and grouped runs range in the 190-300k DPS range.
The Colony deflector is a fantastic DPS addition; it rewards global CritH and CritD based on one's HP level.  I find it to be superior choice for DPS as it has outperformed the Nukara 2 pc, Quantum set and the Prevailing Innervated 3 pc which I was running previous to its release.  The Bajoran 2 piece in the form of warp core and shield have proven a solid DPS choice but with the level scaling of ViL, the need for resilient shields is much greater.  As a result, the Bajoran set is still a good choice for DPS but is a bit more fragile than other choices..  Prevailing Innervated Engines are taken for the huge boost to mobility.  The Spire Core and Prevailing Innervated Shield for the Comp 2 piece are the current DPS meta and my current personal preference.  After reading Hellspawny's CSV Avenger build, I decided to do some testing with Elachi beams and cannons and have had great results including a 315k 3/2 split ISA run.  Sensor Linked Disruptors are also a fantastic choice.  Creme de la creme are Spiral Wave Disruptors at the moment.
If there is interest, I can update these builds on an ongoing basis.  Cheers and happy DPS'ing!
Current Record Parses
FED
ISA – 311K(CSV)
HSE – 283k(CSV/CRF)
DPSM – 280k(CSV)
ROM
ISA – 422k(CSV)
HSE – 353k(CSV/CRF)
DPSM – 218k(CSV)
FAW Builds
CSV Builds
CSV/CRF Hybrid Builds
CSV/CRF Intel Dread S14.5 Build