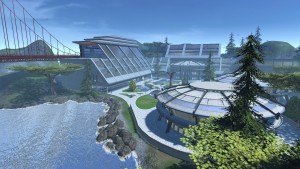 This guide should just describe the basics in Star Trek Online's Space-PvE.
It's written for beginners and everyone else, who wants to learn more about the game.
Skilltree:
As you can see all three careers have the same skilltree.
Not all points are spend into those skilltrees, so you have room for your own creativity. If you want to take a torpedo with you, spend some points in projectile weapons. You are using some abilities, which do exotic damage? Then you should put some points into particle generators.
If you want to know, what every skill does, you can take a look into this spreadsheet.
Furthermore there is a Diminishing return in the resistances. That video podcasts explains it.
Personal Traits:
You can choose out of some traits. Some traits are available for everyone and some other depend on the career or the race. There are also some traits, which you can get from episodes and others from lockboxes. The lockbox traits can be very expensive and not everyone can afford the money to buy them. Since the Trait System Improvements went live on holodeck all characters come with some usefull free traits, you can use them, if money for lockbox traits can't be afforded.
Personal traits are split into two sections: Ground and Space. You have 9 (10 if character is an alien) slots for ground traits and the same amount of slots for space traits.
Traits can be changed in every social zone.
It doesn't matter, what traits are used for episodes, because the enemies there are weak.
We are recommending the following personal space traits:
Romulan/Reman:
Anchored (Vaadwaur or Infinity Lock Box / Exchange)
Beam Barrage (R&D beam level 15)
Romulan Operative / Infiltrator (free) or as Tac A Good Day to Die (Lockbox / Exchange)
Fleet Tactician [Profession-Specific] (Voth or Infinity Lock Box / Exchange)

*

Fluidic Coccoon (Undine or Infinity Lock Box / Exchange)
Inspirational Leader (Elachi or Infinity Lock Box / Exchange)
Context is for Kings and/or Duelist's Fervor (Lockbox / Exchange)
Beam Training (free) or Superior Beam Traning from K-13 (100k Fleet Credits + ~22k Dilithium)
Fleet Coordinator (free)
Non Romulan/Reman:
Anchored (Vaadwaur or Infinity Lock Box / Exchange)
Beam Barrage (R&D beam level 15)
Intense Focus (Xindi-Amphibious or Infinity Lock Box / Exchange) or as Tac A Good Day to Die (Lockbox / Exchange)
Fleet Tactician [Profession-Specific] (Voth or Infinity Lock Box / Exchange)

*

Fluidic Coccoon (Undine or Infinity Lock Box / Exchange)
Inspirational Leader (Elachi or Infinity Lock Box / Exchange)
Context is for Kings and/or Duelist's Fervor (Lockbox / Exchange)
Beam Training (free) or Superior Beam Traning from K-13 (100k Fleet Credits + ~22k Dilithium)
Fleet Coordinator (free)
An alien has an additional trait slot, you can slot "Helmsman" (Tal Shiar or Infinity Lock Box / Exchange) there. Tacticals should use "A Good Day to Die" (Lockbox / Exchange) to get a 50% GDF all the time.
The Profession-Specific trait for engineering and science captains is different than for tacticals. An alternative for that would be "Intense Focus" (if romulan / reman), "Helmsmann" or "Failsafe Scrambler" (Delta Expediton or Infinity Lock Box / Exchange)
In case you need a bite more defense, you could try the Trait "Ablative Shell" (Infinity Lock Box / Exchange)

As a small note: None of the expensive traits is needed to be successful in Star Trek Online's PvE. You can find more information about traits here.
Reputation Traits:
By achieving a higher reputation, you unlock reputation traits. There are 64 passive reputation traits and 8 active ones. The active ones have to be activated in the mission like all other abilities. So, you have to put them on your tray.
For space missions the following passive reputation traits are recommended:
Advanced Targeting Systems (Dyson T2)
Precision (New Romulus T2)
Energy Refrequenzer (Iconian T2)
Auxiliary Power Configuration – Offense (Nukara T4)
Enhanced Armor Penetration (Delta T2)
The active ones depend on what you are doing. If you are doing space missions, just choose the ones for space.
Like personal traits, reputation traits can be changed in every social zone.
Specializations:
For Space you should choose intelligence as primary and pilot as secondary. From intel, you'll get spaceflanking and intelligence fleet. From pilot you'll get more maneuverability as well as temporary hitpoints in addition to Rock'n'Roll (an immunity). Like personal and reputation traits, specializations can be changed in every social zone.
Starship trais:
Mostly you get them from completing specializations or from the final mastery of T6-ships. Not from fleet T6-ships. Starship traits can be changed in every social zone.
Some usefull starship traits:
All Hands on Deck (Tactial Command Battlecruiser):
Activating a Tactical or Command Bridge Officer ability will reduce the recharge time of Science Bridge Officer and Captain abilities. This may only occur once every five seconds.
Greedy Emitters (Ferengi Nandi – Risa event 2015):
If that trait is slotted activating Energy Siphon, Tachyon Beam, or Tyken's Rift Science Bridge Officer Abilities grants a buff which grants immunity to energy drain, reduces energy weapons power usage, and increases your subsystem power levels for 10 seconds. This buff may be triggered once every 30 seconds. Use it together with Attack Patterns and Fire at Will, because you don't have power drain while that trait is active.
Emergency Weapon Cycle (Arbiter/Kurak/Morrigu):
Using Emergency Power to Weapons provides a reduction in weapon power cost and gives a boost to weapon firing speed for the duration of Emergency Power to Weapons
Invincible (Zahl-Cruiser):
While reduced to very low hull, your ship becomes undefeatable for a short amount of time. During this window all incoming hull and shield heals receive large boosts. May activate once per two minutes.
Improved Pedal to the Metal (Pilot specialisation):
+2% All Damage Bonus per 2 seconds spent at Full Throttle (max 10 stacks). All stacks immediately lost if your throttle is dropped.
Supremacy (Vaadwaur Astika):
Cannon Scatter Volley or Beam Fire at Will provide +1 Energy to all subsystem power levels per target hit for a short time. This bonus stacks up to 20 times.
Numerical Superiority (Hestia):
+10%-50% all damage, based on number of allies targeting your target. Hangar pets don't count! It's only baseDMG, but still good for plasma explosions.
Reciprocity (Phantom [Fed] / "Year of Hell"-Lockbox [KDF/ROM]):
If you are missed, all cooldowns of tactical and intelligence bridge officer abilities are reduced by 10%.
Radiant Nanite Cloud (Dauntless):
Any hull heal heals additional 25% in a radius of 3km for 4 seconds.
You can find more Traits in the STOWiki.
Ships:
Most people think, that their ship is determined by their career: An engineer has to fly a cruiser, a science has to fly a science ship, a tactical has to fly an escort. But that is wrong. There is no classical trinity in STO. You can do the content better with more damage, so the tactical outperforms the other careers in every ship, because he has Attack Pattern Alpha, Go Down Fighting and the tactical fleet.
Speaking in general a ship with as much tactical bridge officer abilities, tactical consoles and science consoles as possible is recommended to use, for the reason that they increase your DMG significantly.
Use Vulnerability Locators from the fleet spire in your tactical slots and Plasma-Generating consoles (the ones with plasma explosions) from the fleet embassy in your science console slots. It depends on your bridge officer layout, if you should use the embassy consoles with +EPG or +DrainX (old names: +PartGen or +Flow). Also they are available with increased and decreased threat generation. Usually you should go with decreased threat generation.
Bridge Officer Abilities:
On a romulan character all your bridge officer can have the superior romulan operative trait. But you also should take on superior infiltrator with you. If you own the Delta Pack, you can claim a bridge officer with superior romulan operative and superior infiltrator.
Federation and klingon characters can only have superior romulan operative on their tactical officers. They can be bought in the fleet embassy – the blue male ones.
There are some standardized bridge officer abilities, some of them are supported by duty officers (Doffs).
Tactical Team: You should use two copies of that or, if don't have enough slots for that, one copy of it with conn officers (2 purple or 3 blue) to reduce it's cooldown.
Emergency Power to Shields I + Emergency Power to Weapons II or III should be used in combination with damage control engineers (2 purple or 3 blue) to reduce the cooldown of the Emergency Power to Subsystem abilities.
Hazard Emitters: Clears plasmaburn and other hazard debuffs.
If you have more than two tactical abilities, you also should use an Attack Pattern Beta.
Moreover it's recommend to use your abilities with the keyboard and not to click them. Learn more about that in this video.
Equipment:
You should get deflector, engines, core and shields from the iconian reputation. As an alternative the romulan engine could be used instead of the iconian one. But that's more for a tactical than a science or engineer. In most cases the iconian 4 piece is better. The 4 piece bonus is like an additional tactical console. But the most important part is the 3 piece. The bonus of that is for energy weapons and for allies within 10km. You'll get up to +45% baseDMG from it.
Also you want to upgrade your iconian core at least to ultra rare, to get the AMP-modifier on it.
Every ship can be flown with beam arrays + kinetic cutting beam.
Manoeuvrable ships can be flown with Dualbeam banks in the front slots and omnibeams + kinetic cutting beam in the aft slots.
It's highly important, that all energy weapons are from the same damage type (all antiproton, all phaser, all disruptor, …). Only exception is the kinetic cutting beam, which does kinetic damage.
The damage type doesn't matter that much. Antiproton is a bit stronger than the other ones, but if you want to use phaser, feel free to use it. A Disruptor setup with the "Terran Task Force Disruptor Beam Array" (Terran Reputation), which increases the damage dealt by that array as target's hull decreases (up to 200% damage at 25% hull), is a bit stronger than an Antiproton setup.
Your tacitcal consoles should support your damage type. Console – Tactical – Vulnerability Locator Mk XIV [+AP] is a console from the fleet spire to support antiproton, so look for the right modifier, when you are going to buy yours.
All of your weapons (except the cutting beam and if you are using Disruptor the Terran Task Force Disruptor Beam Array) should have [Pen] as a modifier. All combinations of [CrtD]/[DMG] + [Pen] are fine. The [CrtD]x3 [Pen] and [DMG]x3 [Pen] are good too, the efficiency depend on your Profession. But they are very expensive and the difference between those and the mix weapons is pretty low. If you can't afford some weapons with [Pen] yet, Fleetweapons with [CrtD] [DMG]x3 are an alternative for you. For more informations about weapons check out Hellspawny's Weapon Damage Calculator.
There are two important universal consoles: The assimilated module (Omega-Rep) and the Plasmonic Leech (exchange or Vandal Destroyer for KDFs). You get +16 energy for each subsystem from Plasmonic Leech with 2 points in Improved Control Expertise.
Universal consoles should be put into engineering console slots, because they're least important. Tactical and science consoles are needed for damage.
Other good universal console are the Bioneural Infusion Circuits and the Tachyokinetic Converter. They are obtainable in the Lobi store.
Power level:
Weapon power: Increases your energy weapon damage.
Shield power: Increases your shieldresistances and shielregeneration.
Engine power: Increases your turnrate and speed.
Auxiliary power: Increases exotic damage, heal and resistances of healing abilities and extends the duration of some abilities. Furthermore it increases the damage bonus from Nukara T4.
As you can see the most important power is the weapons power, than auxiliary, than shield and the least important one is the engine power.
You should make sure, that you reach at least 75 in all power levels because of the Warpcore's AMP-Modifier. But that shouldn't be a problem as soon as you get Plasmonic Leech and/or Supremacy.
Here is as an example about power levels on a romulan warbird:

Shield power, engine power and auxiliary power are below 75 in that picture. But it get additional +16 for all subsystems from the Plasmonic Leech and +20 from Supremacy, so 75 will be reached in all systems.
Furthermore weapon power gets additional power from Emergency Power to Weapons and if you use Emergency Power to Shields, your shield power gets additional power from that.
Hopefully this guide was helpfull, if there are any question let us know.