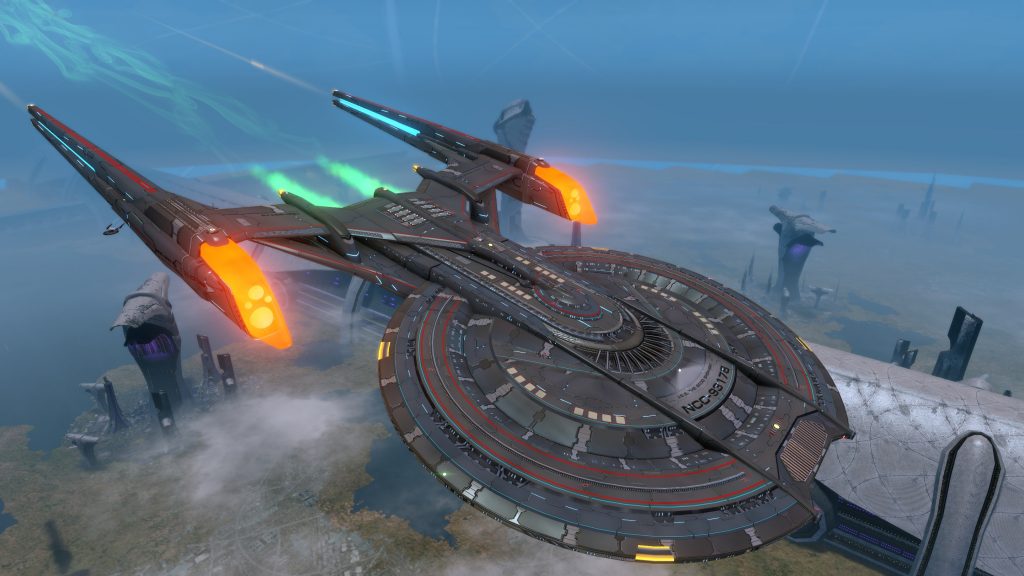 Gagarin class with Delta Rep T6 shield
Cryptics latest additions to the 23rd-century style refits are the Miracle Worker Battlecruisers. Even though they offer nothing we already have seen on other ships, those battlecruisers are quite powerful and provide an almost perfect bridge officer layout for Aux2Battery cannon and beam builds.
Here are some examples to give you an idea about how to arm them for the current meta. Both the Federation and KDF variant have the same stats and layout. Only the visuals are different. The KDF one also has battle cloak!
Cannons
Cannon builds rule the DPS tables for quite some time now, so here are two builds for the two most favorite energy damage types. Both builds have identical bridge officer layouts: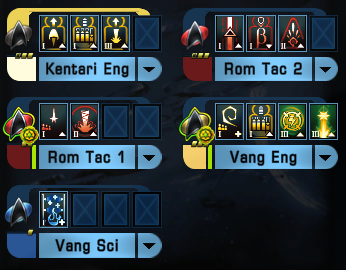 Switching the LtC Universal to Engineering makes it possible to use EPtW3 and two of the best miracle worker abilities, Narrow Sensor Bands (NSB) 3 and Mixed Armaments Synergies (MAS) 3. This layout is very similar to what we use on the Vadwaaur Juggernaut or Jem'hadar Warship, but sadly cruisers don't have a commander tactical. If you want to make your ship a bit more tanky, use EPtS instead of EPtE. You should replace Beam Overload with FAW when using Superior Area Denial as one of your starship traits.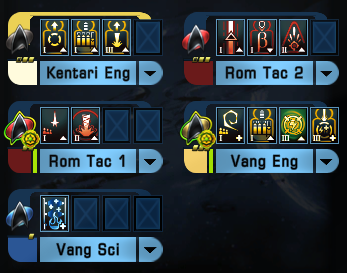 This build definitely is a tankier version for missions like HSE or if you're struggling to survive. Sadly there's no place left for Mixed Armaments, so you should switch the omni-beam for a turret on the Phaser build (see below).  Reverse Shield Polarity 3 plus a matching fabrication duty officer will net you 28 seconds of invincibility (almost, never park in warp core breaches). 
Personal Space Traits
Here's my personal list of useful space traits for energy weapon builds.  There are some good traits which I'd slot in certain missions like the Maru event, but this list is about daily DPS stuff.
Mandatory:
– Fleet Coordinator
– Superior Beam / Cannon training
– Terran Targeting Systems
– Duelist's Fervor
– Context is for Kings
– Inspirational Leader
Very useful:
– Hive Defence
– Fluidic Cocoon (only if you actually get hit by torps)
– Point Blank Shot
– Give Your All (dodge damage)
Situationally good:
– Superior Accurate (if your Acc is quite low)
– Repair Crews (if you need more survivability)
– Maquis Tactics (great for Warbirds)
– Anchored (only if you're not flying around)
– Deft Cannoneer (only if you have problems with sliding around)
And of course the profession and race specifics:
– A Good Day to Die (very good for Tacs)
– Nadion Bypass (must have for Engs)
– EPS Overflow (very useful for Engs)
– Romulan Operative (very useful for Romulans)
– Infiltrator (mandatory for Remans flying Warbirds)
Space Reputation
– Advanced Targeting Systems (CrtD)
– Precision (CrtH)
– Magnified Firepower (Weapon Damage)
– Controlled Countermeasure (if using Aux2Bat and Cold-Hearted) or Tactical Advantage (Debuff)
– Energy Refrequencer (Heals)
Starship Traits
I highly recommend the following traits:
– Emergency Weapon Cycle
– Withering Barrage (Cannons) / Redirecting Arrays (Beams)
and 3 of those:
– Weapon Emitter Overdrive (from the Juggernaut… if you own it, you'll use that ship anyway)
– Cold-Hearted (always useful)
– Superior Area Denial (same)
– Vaulting Ambition (from the Styx)
– Promise of Ferocity
– Calm Before the Storm
– Improved Critical Systems
Duty Officers
Since all of the featured builds use Aux2Battery as their mechanic for cooldown reduction, three technicians (Aux2Bat variant) are mandatory. Use at least 2 very rare ones and one rare to get the maximum uptime.
Don't forget to use your skills first, then activate Aux2Bat to reduce the cooldowns. 
This leaves us with 3 open positions. Some suggestions:
– Energy Weapon Officers for additional CrtD and / or CrtH
Quite expensive if you want to buy the ones with 4% chance. But blue ones will do, too. I'd take both.
– Fabrication Engineer to extend RSP's duration.
The vr one will add 8 seconds. Only use one if you actually slot RSP.
– Agent Nerul / Ayal
This doff comes from the Delta Operation Pack and causes your Attack Pattern Beta power to restore a small portion of your hull when firing energy weapons. Not too bad to have an additional heal.
– Emergency Con Hologram
From the Phoenix box. Lowers Evasive Maneuver's CD by 85% when you use EPtE. Use him to get more speed. Don't use him, if your build just has EPtS/EPtW.
There are a few others that may be useful, but these are the ones that are found in almost all DPS ships.
And don't forget to use Neal Falconer and Eldar Malik'tan in your ground roster. These special unlocks also increase 'space damage'.
Specializations
Intel and Strategist. Great for energy weapon builds.
Phaser
Here's the Phaser build. There's no real surprise, we use all the cool stuff this energy type has to offer. Terran Taskforce Phaser DHC, Phaser Quad cannon, a sensor-linked DC and a wide-arc DHC plus the Prolonged Engagement DC. If you don't have one or more of the 'special' cannons, use some sensor-linked or crafted dual cannon instead. The rear weapons are mostly for set-bonuses, gamma-reputation and counter-command turret, Trilithium Omni.
Deflector / Engine / Warpcore and Shields are well known: Elite Fleet Intervention Protomatter Deflector Array from the colony (I use  [ColCrit] [EPG] [HullCap] [Sh/HullCap] [ShCap] as mods), Prevailing Fortified or Innervated Impulse Engines plus Prevailing Innervated Resilient Shield Array and the good old Elite Fleet Plasma-Integrated Warp Core from the Spire (Mods: [AMP] [ECap] [Eff] [SSS] [W->A] [W->S] ).
The console setup is pretty easy to guess, 4 Vulnerability Locators (Phaser), the 3 matching set consoles for the rear weapons. The C-C Multi-Conduit Relay also boosts kemocite-laced weapons, Ordnance Accelerators adds 36.3% to Phaser damage and the Reinforced Armaments boosts EPS, hull cap and regeneration. The Dynamic Power Redistributor Module is probably the best Heal / Damage console in the game, sadly also quite expensive for Federation captains. D.O.M.I.N.O. is just great for all energy weapon builds, even better for Phasers as it adds another +15% to this weapon type. Bioneural Infusion Circuits is the best Lobi console, Tachyokinetic Converter is useful to buff your turn rate and adds CrtH and CrtD as does the Assimilated Module.
In case you can't afford the expensive Lobi consoles or weren't around for D.O.M.I.N.O. you could use
– a second console from the Synergistic Retrofitting Set 
– the cheap Approaching Agony (+15% Phaser, 1,5% CrtH)
– Temporal Trajectory Shifter (50% Haste for max. 15s)
– M6 Computer (Haste, All Damage, Accuracy)
– Magnetohydrodynamic Fusion Expulsion (+15% Phaser damage)
– instead of the Multi-Conduit slot a 5th Locator and add the Hydrodynamic for the 2 piece set
or something for your survivability like the Protomatter Field Projector (for the space-poor also a good replacement for the DPRM) or Regenerative Integrity Field.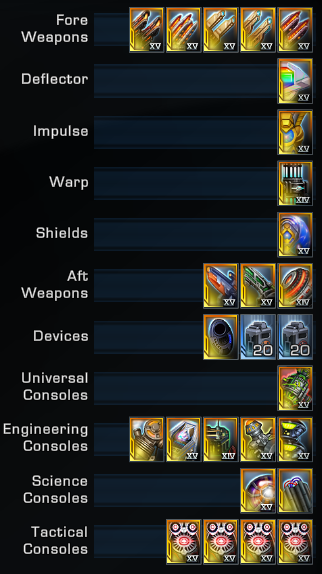 Disruptor
The Disruptor build is quite similar to the Phaser one. Terran Taskforce DHC plus four Spiral Wave DCs, Martok Omnibeam, CC heavy and sensor-linked turrets. Same engine, deflector, warp core and shield. Identical tactical consoles (Disruptor of course), DPRM plus point-defense, CC Multi-Conduit Energy Relay, Martok console, Assimilated Module, Bioneural, and Tachyokinetic or the Nausicaan siphon console can be replaced with something else, i.e. D.O.M.I.N.O. 
The Spiral Waves are awesome weapons, if you don't own them, use sensor-linked, coalition or crafted disruptors.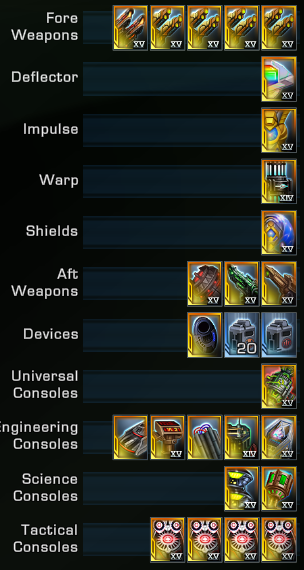 Beams
And now to a sample build using Disruptors. Any energy type will work, though.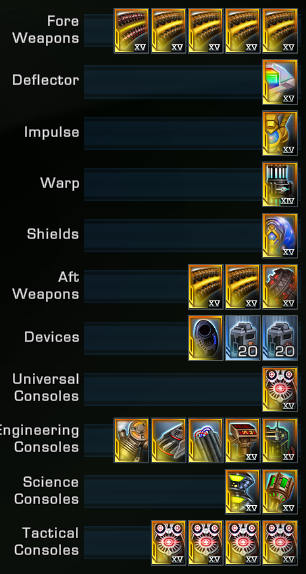 Besides equipping beams this build is almost identical to the cannon one. Terran Taskforce, six Spiral Waves and the Martok Omni as weapons, same gear as mentioned above. 
If you don't own the DPRM or Point Defence, take a different one from the set. No Domino? Use Timeline Stabilizer or M6 Computer. Spiral Waves are too expensive? Try sensor-linked, Coalition, crafted ones. Or just use the T6 Romulan Rep. Disruptor beam plus Zeropoint console.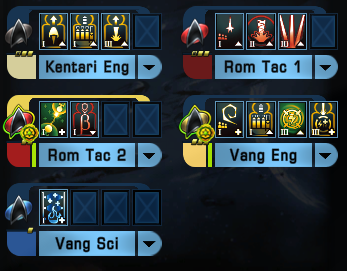 Bridge Officer skills are slightly different, too. No MAS here, if you want to use that skill, you should run the complete Nausicaan Set and use something like the Polaron Build below. But having RSP 3 is awesome.
Polaron
A slightly different build for the friends of Polaron weapons. This one is quite similar to the one I'm using on the Vadwauur Juggernaut. It uses canons, beams and a torpedo, all you need for a true miracle worker build. 
The armament consists of the Morphogenic Energy Torp and Turret, 3 Dominion Polaron DCs (that's three times Boldly They Rode), Advanced Piezo-Polaron DC, the Gamma Rep Polaron and Chronometric Turret. Can't stand Boldly They Rode? Upgrading Dominion Polaron too costly? Use Vadwaaur Polaron or crafted ones instead.
Same Engine, Deflector, Warpcore and Shield as above. Consoles are four Polaron Locators from the Spire, Morphogenic Matrix Controller, Piezo-Electric Focuser (Lukari 2 part set bonus).  D.O.M.I.N.O., Gamma Rep console, BIC, Assimilated Module, DPRM. Nothing really exotic. I wish we could also use the Chronometric Capacitor, but it's a tactical console and a Locator is still better. Supercharged SIF Conduits acts as a placeholder, you can take one of the other universal consoles I mentioned above, Tachyokinetic, RIF, Protomatter Field, M6, Timeline, whatever.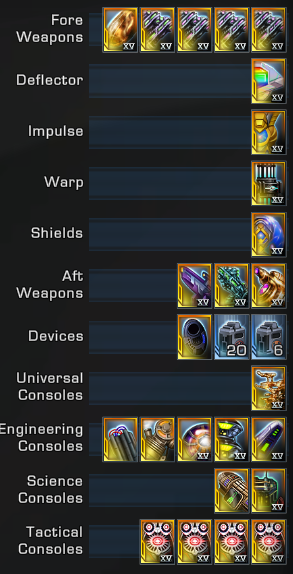 Slightly different BO Layout: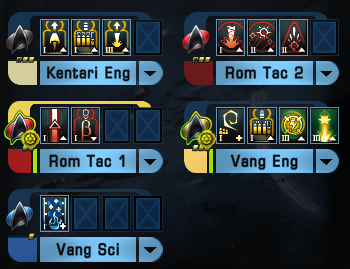 Pro tip: In the WFP phase, stack your buffs for the Hyperactive Morphogenic Enhancements buffs and start with +6% CrtH, +30% CrtD and +22.5% weapon damage.
There's not much you can do to add more survivability besides changing EPtE to EPtS or adding a defensive console.
The traits for this build are just slightly different:
– Super Charged Weapons
– Emergency Weapon Cycle
– Withering Barrage
and 2 of those:
– Weapon Emitter Overdrive (from Juggernaut… if you own it, use it)
– Cold-Hearted (always useful)
– Superior Area Denial (same)
– Vaulting Ambition (from the Styx, very good vs. enemies with high HP)
– Promise of Ferocity
– Calm Before the Storm
– Improved Critical Systems
Same personal space and space reputation traits as the cannon builds above.
FAQs:
Why is there no Weapon Sensor Enhancer or Hostile Aquisition slotted? 
Miracle worker ships have really high accuracy ratings when using Narrow Sensor Bands. But the accuracy overflow (into CrtH and CrtD) shows diminishing returns. Here's a spreadsheet to toy around. Both consoles are great on cannon builds, there is no doubt about that, but here I don't think they are useful.
Do these ships work with Tetryon or Plasma builds?
They do. Just add matching set and reputation items. I'm not using these damage types, so I refrain from giving detailed advice.
What Mods should I use for my weapons?
Mathematically it really depends on your entire build and team. Dmg and CrtD are your best choices and with the ever-increasing CritH we have, I'd favor CrtD.
My Captain is a Science / Engineer. Which Build should I use?
The same. It doesn't make any difference what career your captain has. 
Skilltree? I need a skilltree!
Use this one as a sample and tweak for your own needs: Spawnys Random Aux2Bat Skilltree
Do you like the ship?
Definitely. 
Should I buy it?
Buy it if you like a hard-hitting Federation style cruiser or a Discovery Klingon one. You'll only need the fleet version for 5 fleet modules (~70m ECs).  If you buy the C-Store Version you'll get a ship that levels with your lower ranking toons and a decent skin.
In the end, it's your money.
Do you guys get paid by Cryptic?
Hell no. 
If I copy one of the builds, will I become a better player?
No, you'll just have a decent build. 🙂
Version history:
2019-02-19 1st Edition by Hellspawny
2019-03-03 Added DOFFs and Specializations