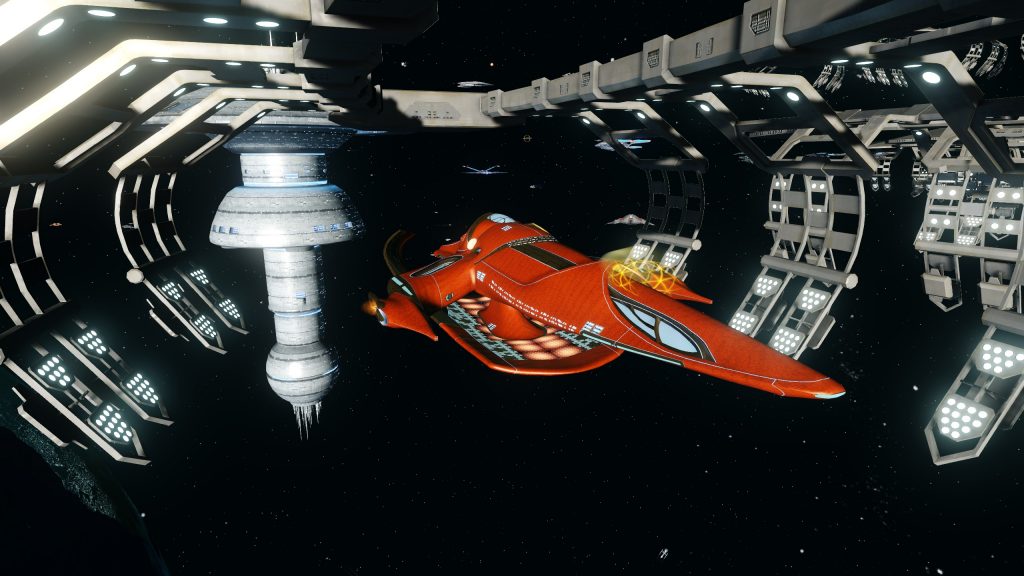 (Screenshot by @pottsey)
Updated: 27th Sep 2020
Who doesn't like a good explosion? If explosions are your thing or like me you always bring C4 into a stealth mission then this could be the build for you.
Mines have always been a favourite of mine even going back 10 years when we could only run 2 mines launchers at a time. Over the past year we have seen a number of positive changes to mines so today I am going to take a look at the Vorgon Ytijara Dreadnought Cruiser. While this isn't the highest DPS Minelayer, it works well over a wide variety of content due to the Vorgon console set bonus boosting mine speed.
The idea behind this build beyond lots of explosions is to passive tank so I can focus on piloting. While not essential the reason piloting matters is mines require a different piloting skill set which can have a massive impact on damage output. 
One key way to boost damage with mines is to predict where waves of ships are going to appear and predict flight paths. Most other builds fly directly into combat from any angle but with mines at times you want to fly into the flight path to maximise damage. Just flying up to the enemy and dropping mines doesn't always work as the mines might miss the target. But stop in front of flight path and you should hit.
Another tactic is pre dropping a mine field before enemy reinforcements comes in. If done correctly you will kill the reinforcements faster than any other weapon system. As long as you position the mine field in the right spot the reinforcements wont stand a chance.
Don't waste the starting timer. Apart from Carriers most builds don't benefit from this countdown. Minelayers do as we can preload our damage so drop as many mines as you can while waiting for the starting timer, use Kemocite Laced weapons, Disposal patterns the lot. Then once the timer hits zero use Relocate Mines. It is not always best to use Relocate Mines right away. For example in ISA runs what I tend to is fight the Cube and those starting ships normally and wait to use the pre-drop mines once the Nanite Transformer shield drops. If you position yourself around the Nanite Transformer just right and hit Relocate mines, the mines circle the transformer in such a way that they will target and blow up 3 or 4 nanite gens, any leftover mines then retarget the Nanite Transformer. You can solo blow up the entire area in seconds.
To give an idea on DPS with the starting 10 seconds pre drop in a PUG group my Styx Terran Dreadnought Cruiser gets around 200 to 250k focused around mines. With the Vorgon Ytijara Dreadnought Cruiser around 150k to 200k DPS. If you really want to push DPS as far as possible in ISA runs get a premade group that is happy to WFPs as long as possible.  Pre drop the maximum waves of mines allowed before starting which could be 30 to 45 seconds depending on build. This will push you well past 300k DPS when added with some well placed strong pulling grav wells from team mates. 
Kemocite Laced weapons as long as you lunch the mines while Kemocite is active, the mine holds the Kemocite charge until they hit the target even if the timer has hit zero. Consider using Attack Pattern Beta in Combination with Kemocite.
Flanking does not work with mines. (Update: Flanking does work with mines from Cluster Torps. No other mine seems to work with flanking)
Full Build
https://skillplanner.stoacademy.com/2ae4e4e3e9081fdc7c6b578062f95209
Please read the full notes. Highlights
The missing console is a lobi, Covert Mine Layer Suite
The missing Mine is the Black Ops Mine (counts as a Photon mine)
The Missing Device is a Kobayashi Maru Transponder which drops pickups that boost mine move speed.
If you don't like Tricobalts blowing up your own ship use a 2nd Breen Cluster and replace the rear Tricobalt with a Web Mine or Bio Photon mine with Radius x3.
While I have gone for Shield Pen in this build it works just as well to replace the Shield pen traits with DPS boosting traits.
The Warp core is to help moving around sector space which I do a lot of.

Build variations.
For DPS, Colony Deflector, x3 Gamma Synergistic.
For hybrid, Colony Deflector, x3 Non-Baryonic matter.
For Tank, Non-Baryonic matter Shield and Non-Baryonic warp core, Borg deflector, Borg Engine.
With x3 Nurse Doffs and the Non-Baryonic matter hull regeneration from the set bonus I found that I can get away with swapping all my healing bridge officer powers out for combat related powers. If you really want to be sneaky there are two types of nurse doffs and the ground nurse doffs work in space. Freeing up all those space doff slots.
With the DPS setup I tend to run (Update: this is for the build I was running 2018, I do not use the heavy mine trait or Beam Overload in 2020)
Tactical, Beam Overlord 1 (to trigger heavy mine trait), Tac team 1, High Yield 2. Kemocite 2, Dispersal Pattern Beta 2.
ENG: x1 Power to Shields 1, RSP1, Engineer Team 3 and Power to Structural Integrity field 3.  
Sci, Structural Analysis 1, Photonic Officer, 1, Grav Well 1.
For the Hybrid or tank variation I change to
ENG: x2 Power to engines 1, Endothermic Inhibitor 2, Structural Integrity Collapse 3, Either RSP3 or Emit Unstable Warp Bubble 3.
As I am an Engineer all my weapon mods are DMG where possible.
For consoles nothing is essential but I would strongly recommend the Covert Munition Deployment Console and Covert Mine Layer Suite Console. For Traits Hot Pursuit is extremely important as it can triple DPS output.  Not being far behind in usefulness is Holographic Mirage Decory trait which helps keep mines alive.
If the Vorgon Crusier is not for you Escorts can fit an experimental Graviton Implosion Charges
https://sto.gamepedia.com/Graviton_Implosion_Charges which is like a mini grav well every 4 seconds pulling enemies near each other, great for mines.
The Styx Terran Dreadnought Cruiser is a new high end mine layer, possibly the best mine layer in game at the time of writing.
If you have any questions post in the comments below or send a message to @pottsey5g