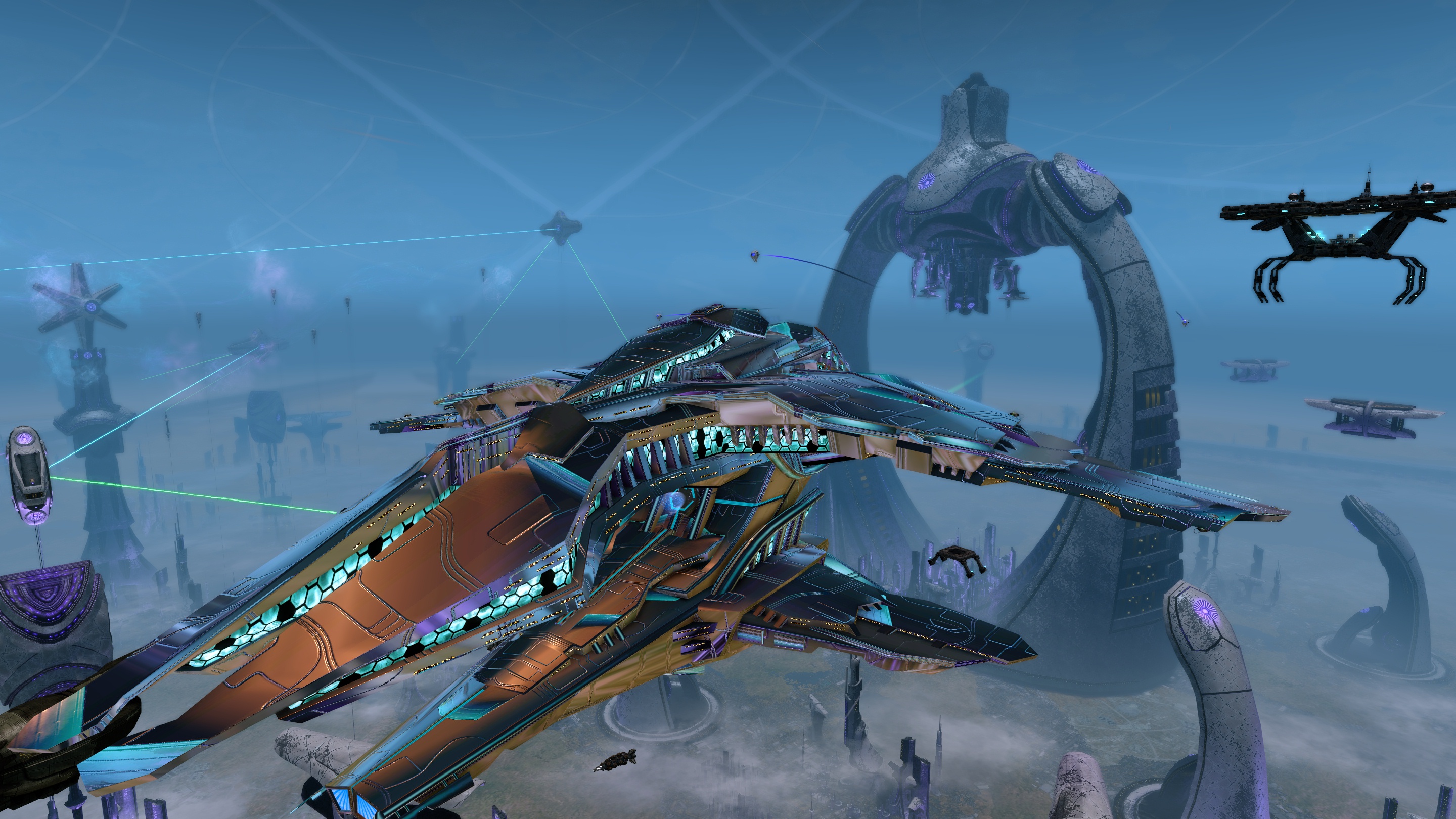 Hello everybody,
this is my current version of the Elachi Intel Sheshar. I'm able to do >110k DPS with it in ISA PuG runs, even without proper timing of the offensive skills and more or less lazy piloting. 
Although this dreadnaught is one of the rare and expensive promo ships which appeals only to a minority of players, the build itself is quite universal and you can copy it easily to any other 5/3 cruiser, i.e. the Acheros (which btw. is not only incredibly cheap but thanks to it's versatility also one of my favorite ships), Arbiter, Atlas, Vengeance etc. The Sheshar itself is slow and clumsy. And big. Really big. Its base turnrate, inertia and impulse modifier are sub par to most of the other cruisers out there, but its bridge officer layout isn't too shabby, the hangar is an asset and it's base hull value and shield modifier make it quite tanky. Its weapon and bridge officer layout give it quite a punch. To make it short, I like it. It's not a Scimitar (which is superior in almost every aspect), but hey, try to find a Scimitar for mere Federation officers…
Good news: There is nothing special about this build, you may even use cheaper equipment without loosing too much firepower or defensive capabilities. Anyway, here's the link: Intel Sheshar
Some explanations and in-depth details:
Shields / Deflector / Warp Core and Engine
The engine is the key. The fortified prevailing engine from the competitive reputation is hands down one of the best items in game. It adds an incredible boost to speed, turnrate and inertia when activating a hull or shield heal, and also helps to reduce the cooldowns of all your engineering bridge officer skills. Combined with this build's four different healing skills and other reduction traits it turns the Sheshar into a fat but nimble escort style ship that has no problems spamming all your engineering abilities.
The warp core from the terran reputation helps your power levels. You may also use your good old spire core instead. If you're piloting a warbird, stay away from the Terran singularity. It sucks. Really.
My build uses the Nukara deflector and shield for it's 2-part set bonus (+5 all weapon bonus damage). If you like to copy the build, be aware that upgrading both items to epic is expensive and the modifiers you'll gain are quite lackluster. Same applies to the UR ones. The very rare ones are pretty cheap, just upgrade them to Mk XIV.
You may also use the fortified engine and 3 parts from the Iconian set. It's still very good.
Weapons
Utilizing the high mobility I choose the full Nausicaan set as the ships core armament. I'm an advocat of 'pure' beam builds for years and I used to tell people that whenever they equip a torpedo launcher on a cruiser somewhere a kitty dies. Well, that's still true, but the Nausicaan torpedo is something special, it's not your standard kinetic damage weapon that relies on special tactical consoles. It's buffed by anything that adds disruptor damage instead, just like any of the disruptor energy weapons. Anyway this set's bonuses are great and it fits quite well into this 'theme' build. The Terran beam is hand's down the best beam weapon in the game. But that's no news to you, right?
Well, using a torp makes broadsiding quite difficult. The ship's mobility helps a little, but I prefer the frontal assault. Hence the three omnis in the rear. I'm using two spiral waves, my favorite beams, front, but you could also use crafted disruptor arrays with any combination of [Dmg] [CrtD] and [Pen] or coalition Disruptors. Dual beam banks are viable too. 
Finally the KCB (Kinetic Cutting Beam). There's no way around it if you want to use 3 omnis in the aft weapon slots. And the KCB still rocks against unshielded targets.
Caveat:
– Spiral waves are per se the best non reputation beams. With the season 13 nerf to fire at will (esp. the accuracy debuff), the built-in [Acc]x2 isn't too bad. But Craptic still hasn't fixed the missing accuracy overflow when using fire at will. That means no additional crit chance and severity for you. Sad. 
– The Martok omni. Well, we don't have too many disruptor omnis to pick from. You could use the console for the 2-set bonus. But then there's the acc-overflow again. 
Consoles
Neither the Sheshar nor its Elachi cousins offer any must-have consoles, unlike the Flagships or the Chronos with its 31st Century set. So you are free choose between all the great consoles the game has to offer. Almost.
Using Locator consoles from the spire that buff disruptor damage should be obvious. Plasmonic Leech gives +7.5 bonus to all power levels and is kind of mandatory on an all-energy build. Same applies to the Assimilated Module for the 2-set bonus with the cutting beam. The Nausicaan Siphon gives us the final set bonus of the Entoiled Technology Set and adds +25% disruptor damage plus 33.375% power transfer rate as an epic Mk XIV.
This leaves us with 4 vacant console slots. I really like the Dynamic Power Redistributor Module. Its damage boost and hull regen clicky ability is just awesome. But it's quite expensive if you're rolling a normal Fed char, because you'll have to spend just 350+m ECs for the Atlas. Roms and Klingons just buy the console pack for 6-7m. Anyway, adding the universal Disruption Pulse Emitter for the +33% disruptor damage boost is a lot cheaper for Feds (not for Klingons… they need to buy the D9 and should use the Secondary Shield Projector instead). 
So, two more slots. I prefer the Bioneural Infusion Circuits. Almost all my weapons have an inherent CrtH mod, so adding a lot of CrtD is not a bad coice I would say. Next one is the Temporal Entanglement Suite. More auxiliary power,  2,5% CrtH and 8 CrtD are not too shabby.
Other options:
– Timeline Stabilizer from the Krenim Science Ship for a boost to firing cycle haste and Science BO reduction (not really necessary)
– House Martok Console, decent boost to shield and hull hitpoints and energy levels. Plus 2,5% CrtH and +15 Accuracy as a set bonus with the omni beam. But remember the missing Acc-overflow.
– Weapon Sensor Enhancer from Lobi store. +40 Acc means a huge boost to CrtH and CrtD when not using FAW. Hope for the fix. +40 ablative hull rating against kinetic damage. In it's current state the WSE is just a great PvP console. And great for cannons. 
– Protomatter Field Projector and Regenerative Inegrity Field. Two great healing consoles that will save you from exploding. 
Traits
Personal space traits – no suprises here, you've seen them on our League's builds before. You may ditch Accurate or Anchored in favor of something else.
Starship Traits – here's the catch, some of them are quite expansive in means of Zen or EC. Emergency Weapon Cycle, Super Charged Weapons and All Hands on Deck come from Zen ships. If you're into DPS for a while, you should own them already. Invincible comes from the Zahl cruiser. It's mandatory for DPS ships since… well, since it was added to the game. Peak Efficiency is from the Vonph Dread. It's cheap and it helps your cooldowns as long as your hull is above 80%. Well, how many healing skills do we have? 🙂
Space Reputation – Nothing new here either. You may drop Tactical Advantage in favor of Nukara Defence to add more resistances. 
Final remarks
Well, the ship may be expensive, but most of the equipment is not. As I mentioned earlier, you can use the build on several other ships with nearly the same results. If you have any questions, feel free to ask, on this site, in game or on Facebook. 
Have fun and good luck
~Hellspawny